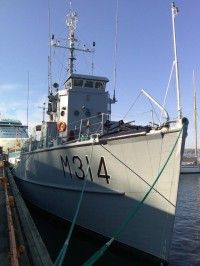 Radian AS was founded in 1996 and is located in Kongsberg in southern Norway. Since the very beginning we have delivered radar system studies, specifications, software and project assistance to both private companies as well as official authorities such as the Norwegian Defence Research Establishment, the Norwegian Air Force Materiel Command, the Defence Communication and Data Service Administration, Kongsberg Defence and Aerospace and the Civil Aviation Administration.
Our knowledge is based on 14 years of applied radar research at the Norwegian Defence Research Establishment and software design and development at the Institute for Energy Technology. Through the projects and former background our experience has grown in both depth and extent. We are flexible and may support many projects related to radar system analysis and/or development.
1997
1997 - Starting the development of MARI (Maritime Radar Investigator), a dedicated software package for maritime radar performance analysis. Over the years this package has been further developed and has been used as a core tool in many radar system studies. MARI is optimized for sea target detection including a height extended target model, an accurate antenna elevation pattern model as well as the Advanced Propagation Model from SPAWAR - San Diego for anomalous propagation modelling.
2002
2002 - We established an in house electronics lab for supporting digital signal processor development activities primarily for improving navigational radar detection performance. Our experimental radar is established at the Telemark coast and is currently equipped with a Furuno FR-2115 X-band marine radar.
2004
2004 - The dual frequency marine radar signal processor prototype is ready for sea trials. Extensive testing from the car ferriy M/F Smøla took place the next two years..
2006
2006 - New studies and signal recordings for improving small target detection performance for standard marine radars. Signal recordings from the car ferry M/F Harøy and several land based positions.
2008
2008 - Development of a digital signal processor prototype for improved target detection in noise for S and X-band marine radar.
2009
2009 - Signal recordings and system testing on national VTS radars.
2010
2010 - Prototype development of our first PCIexpress radar interface card. New Field trials focusing on target detection in heavy land and sea clutter conditions.
2011
2011 - Initial work on oil spill detection.
2012
2012 - Signal recordings and analysis for oil spill detection. 2nd generation PCIe card development.
2013
2013 - Initial experiments on weather and bird radar using our improved target detection technology. Weather radar prototype fielded at Avinor-Alta airport. Prototype in operational use through the winter 2013-14. First signal recordings of birds in Alta.
2014
2014 - EKKO BirD installed at Trondheim airport. The radar is supporting flight controllers and field personell on bird activity around the airport.
2016
EKKO RAOL (Radar Activated Obstruction Lighting) - Initial field trials in Lindesnes windpark (southern Norway).
2016
2016 - EKKO BirD maximum range is increased. Latency is reduced to 2sec. New azimuth sensor improves detectablitiy and tracking.
2017
2017 - EKKO Met weather radar is installed at Trondheim airport.
2017
2017 - EKKO Met weather radar is installed at Trondheim airport.
2018
EKKO RAOL marketing starts in Norway and Sweden.
2018
EKKO camera. Concept development starts.
2019
EKKO camera. Signal recordings with radar support starts.
2020
EKKO kamera Demo1 is installed at Trondheim airport.
2020
Ørland airport procures EKKO BirD&Met.
2021
EKKO RAOL is supplemented with ADS-B.
2022
EKKO camera Demo2 completes for deployment at Trondheim airport.